SUNWINGS is a state of the art solar cooker that can cook a complete meal for a family of 4-6 in just 30 minutes, that is as fast as the conventional oven. You can bake 1 kg of cake or bread in just 20-30 minutes.
It can bake, boil, steam, roast and barbeque all your favorite delicacies to perfection.
And of course because of its gentle, low temperature and even cooking, the food retains more nutrients than the conventional cookstoves and is also more flavorful, aromatic and tasty.
SUNWINGS, thus not only cooks fast but also healthier and more delicious meals.
Owing to its superior insulation, SUNWINGS can absorb whatever little sunlight available in the monsoon, convert it into useful heat and accumulate it to increase temperature in the range where you can cook a meal.
This unique feature coupled with an innovative thermal storage, enables SUNWINGS to store the excess heat available in the day to use it for cooking dinner in the late evening hours.
Working & Novelty
Concentrate, Convert, Retain: The reflector concentrates sunlight from larger area onto a cylindrical tube that has a special coating to convert light into heat and then insulate the absorbed heat from losing to the atmosphere so as to build the temperature profile quickly.
Solid state heat storage: Accumulate the heat and store in the thermal storage unit in the form of sensible heat at high temperature.
Detachable cooking tray: The cooking tray is designed to slide over the thermal storage and hold three vessels to cook three dishes simultaneously.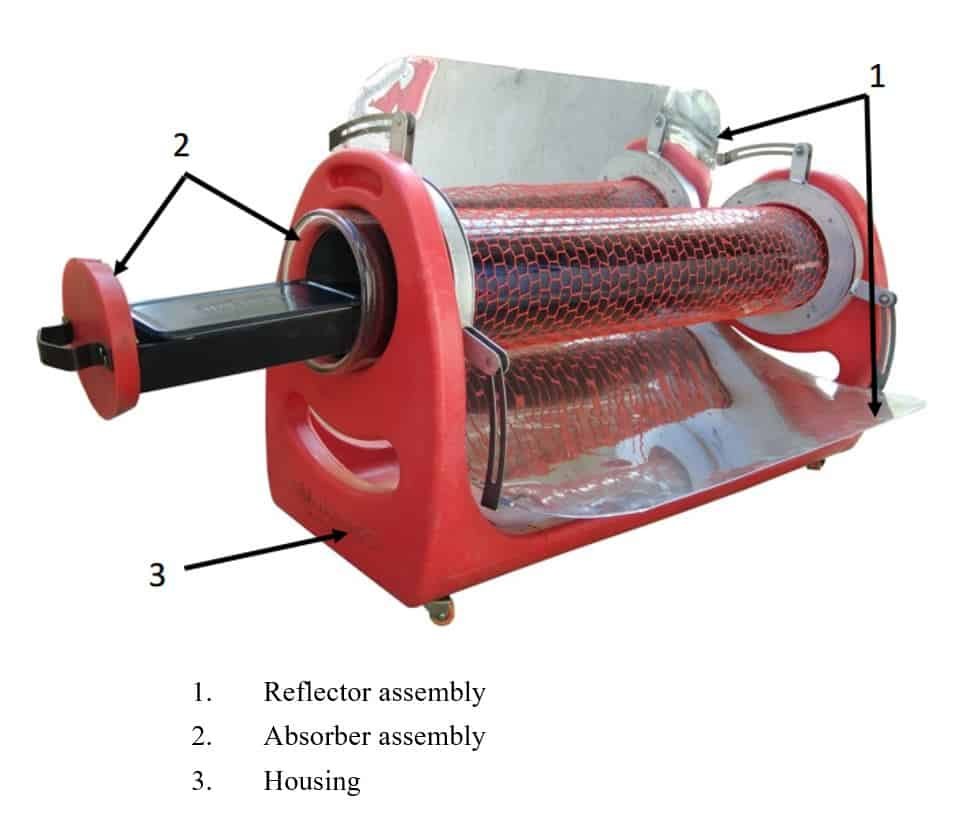 Dual manual tracking: The wheel mounted oven can be tracked on dual axis so as to align the oven perfectly in the direction of the Sun
Preheating possible: Unlike other tubular solar ovens, SUNWINGS is designed to enable preheating upto a temperature of 220 deg C. This means you can leave the oven on the terrace/balcony without worrying about the preheat temperature and also bake all your recipes to perfection. The ability to preheat also enables faster cooking.
Cooking Time
Takes 1-1.5 hour for warming up from 8-9:30 am
Cooks 1.8 kg Rice or Vegetables in 30 minutes once heated up
Bakes 1 kg Cake or Bread in 20 -30 minutes
Stores heat to Cook dinner in an hour between 5-8 pm
Utensil Capacity
3*1 liter Anodised Aluminium vessels having dimensions 7.5 x 4 x 2 inches. This option is equipped with thermal storage
3*2 liter Stainless Steel Vessel having dimensions 10.4 x 4 x 3 inches (without thermal storage)
Others
Dimensions 3.5*1*1.5 ft
Weight:15 kg without food
Peak temperature: 250 deg C without load
Warranty: 1 year from the date of purchase
Maintenance: Cleaning of dust on the tube & reflector
The SUNWINGS Advantage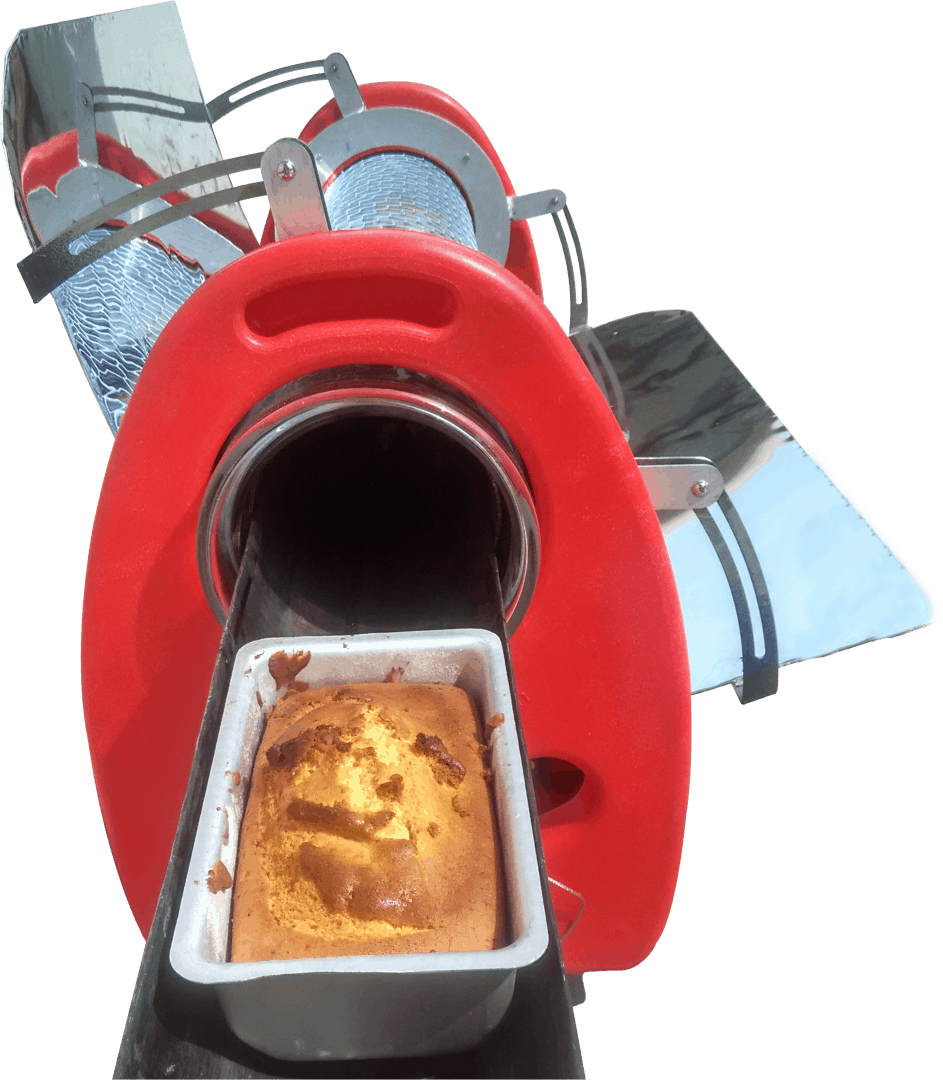 No Smoke, No Fire, No Wire. Cooks in closed hygienic environment
Easy and Safe to use, carry, store and multiply
No Setup cost and No Recurring Energy or Maintenance Cost
A Mother can earn without compromising her family priorities
Possibilities
Bake: Cake, Cookies, Breads, Snacks
Boil: corn, sweet potatoes, Ghee
As per local needs
Capacity
1 kg Cake/Bread in 20-30 minutes
2 kg cookies in 4 hours
8 kg corn or potatoes/day
Revenue
Rs. 300 – 400/day by investing 4-5 hours a day
Simple payback of 2-3 months
Life
Design life of 20 years with no maintenance expenditure